ignite: innate resilience & wellbeing 1.0
About the ignite programme
What if every young person had an instruction manual that could help guide them towards a brighter, more resilient future?
ignite is a highly innovative digital resilience and wellbeing programme that can be easily deployed in schools all over the world. In short, sharp, impactful sessions, it provides an essential foundation for young people to learn about their innate mental wellbeing in a fun and dynamic way.
Over the course of six extremely engaging 20-minute episodes featuring young iheart hosts, Neelam and Yoav, and other young people from around the globe, ignite explores the iheart mental wellbeing Framework and applies this powerful knowledge to navigating real-life challenges.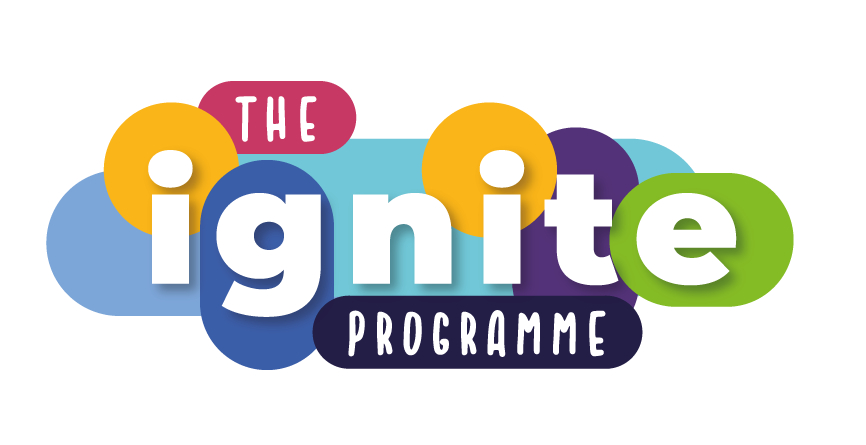 What makes ignite unique?
Stimulating, fun, interactive and educationally impactful for students (and teachers!)

Inspires young people's curiosity to further explore their innate mental wellbeing and resilience

Simple and easy for the classroom teacher to implement with just a simple 'click & play', then let the programme do its magic

Teacher's Guide, Introductory video and 'What if' poster series to support classroom delivery

Bite-sized sessions that can easily fit into busy school timetables

Low cost, high volume and high impact
How is it delivered?
Fantastically simple to access and intentionally short in duration, each 20-minute episode is delivered digitally by the classroom teacher through simply 'clicking and playing'. The programme is designed to be flexibly delivered within the classroom: it can be shown over six sessions in whatever learning format the school chooses, for example during tutoring time or homeroom lessons.
Session 1: A Hero's Journey
In being introduced to the iheart Framework, students are guided through a short tour of popular movies, showing them how the arc of the 'hero's journey' can bring new perspective to our mental health.
Students will learn:
That our mind is the device that directs us through life.
About issues and challenges that will feel familiar to most young people on their life's journey.
No matter which road we are travelling on, we always have everything we need for our journey.
Session 2: To Infinity and Beyond
Using the analogy of superheroes, students learn that when we are travelling on the Innate-Wellbeing Road, we feel our superpowers – our qualities of wellbeing.
Students will learn:
How we naturally feel these 'superhero' qualities of wellbeing when we are our best selves.
That these are our built-in superpowers, which means we have everything we need inside of us already.
That even though there are times that we don't feel these qualities, they are still there.
Session 3: Wait, I'm not ready!
Through the theme of gaming, students explore the Attached-Wellbeing Road, a road where we are looking for things to boost our wellbeing and avoid things that we believe can take it away.
Students will learn:
How to reduce self-judgement and better understand our unhelpful beliefs.
How to find perspective when we feel stuck, frustrated, overwhelmed and insecure.
About attachments and why sometimes it may feel like our wellbeing can be given to us and taken away from us.
Session 4: Where Am I?
Using illusions, puzzles and games, students find out about the clues – or signposts – which inform us about being 'on' or 'off-track' with our wellbeing.
Students will learn:
How these signposts enable us to be curious, rather than judgmental of thoughts and feelings.
That knowledge of which road we are on helps us to learn about why we are stuck, anxious, insecure and demotivated.
How to use a question as a compass to navigate which road we are on.
Session 5: All Fall Down
The theme of dominoes sets the context for students to discover that rather than being passive during times when our wellbeing is covered up, we can learn how to uncover it again.
Students will learn:
That insight is a special power we possess which collapses our 'off-track' thinking, thereby uncovering our wellbeing – our superpowers.
To get curious about what we may have attached our wellbeing to.
It is when we are 'off-track' that we can have helpful insights about our attachments, leading to better understanding of ourselves.
Session 6: Use It...or Lose It!!
Hearing directly from young people around the world about the issues they are facing and their requests for help and guidance.
Students will learn:
That the iheart instruction manual can help us with everything in life – the small stuff and the not-so-small stuff!
To feel more confident to better navigate everything to do with our minds including our feelings, thoughts and behaviours.
That knowledge is power and is the pathway to greater wellbeing and resilience.
Hear from young people across the globe as they discuss common concerns such as:
Stress & Pressure
"I just feel so bogged down by everything. There's just so much pressure. It seems to come from everywhere! I've got school, hanging out with friends, homework, piano practice, basketball practice, and loads of projects! Can I manage all this AND feel my wellbeing at the same time? Is that even possible?"
Relationships & Friendships
"My question is about friendships. Me and my friend, Matt argue ALL the time–on big issues and small ones.  It's exhausting. And frustrating. Can you help? Please?"
Bullying
"I've had the worst week ever. I posted a picture on instagram of myself at a festival and I was so badly trolled. I was called a loser, a show off – and stuff that I don't even want to repeat! I wish I'd never even posted that stupid picture in the first place."
Labels
"I've been feeling really, really kind of down recently. I  guess you could say pretty shy and self-conscious, and I feel like I'm not really good at anything. I get pretty anxious when I'm with people, like when I have to speak in front of everyone in class or when I go to parties or even at break or recess time. I'm not very good at making friends. How can I feel better about myself?"
9-12 Programme
An early intervention addressing the root causes of poor mental health and emotional issues, this preventative programme helps young people to uncover their innate resilience and wellbeing so that they can face future challenges and school transitions with confidence. 11 interactive one-hour classroom sessions delivered by an accredited iheart facilitator or a trained, iheart-certified member of staff.
13-18 Programme
In-depth support for students to navigate their very real day-to-day challenges, focusing on critical topics such as self-esteem, exam stress, anxiety, relationships and social media. 11 one-hour classroom sessions delivered by an accredited iheart facilitator or a trained, iheart-certified member of staff.
Training for Teachers, Leaders & Staff
We support the mental health of school staff and train them to deliver the iheart programme to their own students. Learn about our training courses and how they build a whole-school, sustainable culture and language of wellbeing and resilience.
What if resilience was something that you were born with,
not something you have to find or build?